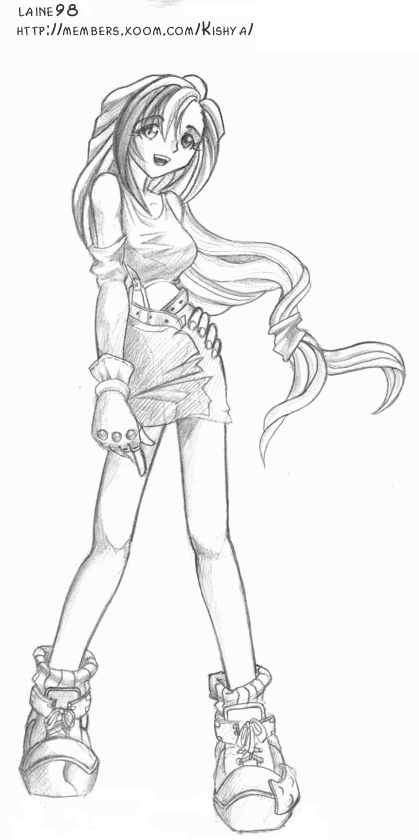 Well, here they are, the stories that really got this web site off the ground. I find it kind of amazing that even after all this time the accolades continue to roll in. Check out these glowing reviews for the Final Fantasy VII Internet Series from these prominent national newspapers:
From the WASHINGTON POST: "Who are you again?"
This was what the CHICAGO TRIBUNE had to say: "How did you get this number?"
And this from none other than the presitgous NEW YORK TIMES: "Call me again and I'll call the police!"
Finally, from WEST PALM BEACH's own POST: "Get away from me you weirdo. I've got a paper clip and I know how to use it!"
Yes, it's universal acclaim like that that really warms my heart. So check 'em out!
Pic by Laine at Tasty Graphite
---

THE FIRST BOOK IN THE FINAL FANTASY VII INTERNET SERIES
(Ooh, that sounds sooo impressive!) You might have seen this one on some other web sites. But this has chapter headings and a few small corrections.

A year has passed since the death of Aeris and the fall of Shinra, yet Cloud is restless, still haunted by visions of her. Concerned about his welfare, Tifa turns to her former companions for help, and together with Cloud they set out to find the truth, and possibly a long sought reunion with their lost friend. But others have learned of their mission and wish to twist it with their own dark purposes...
---

THE SECOND BOOK IN THE FINAL FANTASY VII INTERNET SERIES

All over the world the power of materia is starting to fail. In Wutai Godo sends his daughter to investgate the source of the drain. When she does not return he calls upon our intrepid adventurers for help. They journey in search of Yuffie and discover a mysterious fortress protected by skilled warriors known as the Order of the Red Fist, who are bent on nothing less than, what else, world domination. Can our heros overcome this latest evil, even with the help of the Turks, when one of their own turns against them?
---

THE THIRD BOOK IN THE FINAL FANTASY VII INTERNET SERIES
Boy, I'm just pumping them out here!

After the ressurection of Aeris Cloud finally felt he was free from the shadow of Hojo and Sephiroth. But unknown to him an old evil has reawakened in the ruins of Midgar. Soon afterward Cloud starts behaving strangely, and those close to him watch with a growing sense of fear as his behavior becomes more and more erratic. When a series of brutal attacks takes place, his friends, and even Cloud himself, begin to suspect that he may be responsible. Can he finally free himself from the past, or has the nightmare begun again, leaving him doomed to forever question his actions, his reason, and his sanity.
---
THE FOURTH BOOK IN THE FINAL FANTASY VII INTERNET SERIES
If you keep reading them, I'll keep writing them!

Cloud's friends journey to a new continent in search of him, but soon find themselves scattered and lost, hunted by a government deteremined to exterminate them. Meanwhile Cloud, lured by the prospect of learning the truth about his father, finds himself a pawn caught between the oppresive forces of a new regime and the people who would do anything in their power to see it brought down. Now Cloud not only must find a way to save his friends and himself, but also try to stop a government set on plunging the world into war.

---

THE FIFTH BOOK IN THE FINAL FANTASY VII INTERNET SERIES
The ideas just keep coming

Cloud's peace is shattered by a sudden devestating attack on the members of Avalanche. Zack takes charge of the remaining members of the team as they try to discover the power behind the forces unleashed against them. He finds he must use all the resources of the group against a fanatical religious order bent on elevating Jenova to the status of a God, and the total destruction of Avalanche

---

THE SIXTH BOOK IN THE FINAL FANTASY VII INTERNET SERIES

With the destruction of Jenova Cloud and his friends return to their homes, hoping that their battles are finally over. But a threat still hangs over them, and they realize they will not have true peace until it is faced. After Ellengio explains the true meaning of the crystal materia, they agree to take to the skies in an attempt to put an end, once and for all, to the evil that has haunted their planet.
---

THE LONG AWAITED BOOK SEVEN OF THE FINAL FANTASY VII INTERNET SERIES

After the defeat of Jinn and the full activation of the shield around the Cetra homeworld, Cloud and his friends were ready to put Jenova behind them and move on with their lives. But soon they find out that is not as easy as they had hoped, as the visions Jinn showed them seem to come back to haunt them. It is just a coincidence, or had Jinn really given them a glimpse of what was to come, and if so, was that future inevitable? Or was there someone else working behind the scenes manipulating events to only make it seem so?
---

BOOK EIGHT OF THE FINAL FANTASY VII INTERNET SERIES

A year after the events recounted in Shadows of the Past unusual occurances send Aeris on a journey to discover the truth about her people and their relationship with humanity.

---


Updated 03/10/03
Some personal observations about the Internet Series
---